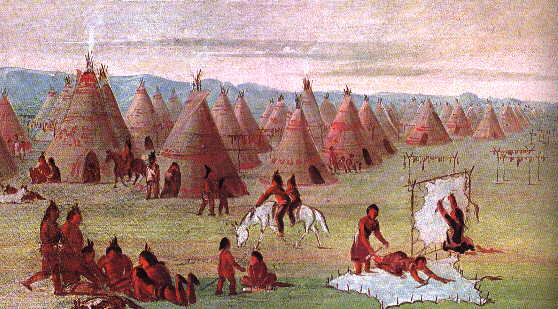 A COMANCHE VILLAGE
---
This is a picture painted by an early explorer and artist named George Catlin. He painted this in 1834. Look at the women working on the bufalo skins. They are tanning and finishing them out to be buffalo skin robes. You could put these into a diorama of any plains Indian tribe. See the tee-pees. They look like upside down cones. Look at the man going into the tee-pee at the front. Look real close at those little wood racks with the things hanging off them at the back right. Those are drying racks and the little strips of stuff hanging on them is buffalo meat drying to preserve it. The men at the left in front are playing some kind of game. I wonder what kind of game?
---
Use your browser's back arrow to go back to where you were.
Back to the Texas Indians home page at WWW.TexasIndians.com
Copyright 2000, 2012 by Rolf E. Moore and Texarch Associates, all rights reserved. Graphics may not be used or reproduced without prior permission. Short parts of text may be quoted in school reports. Longer quotes require prior written permission.
---
Since 2-1-2005